Mark Serrianne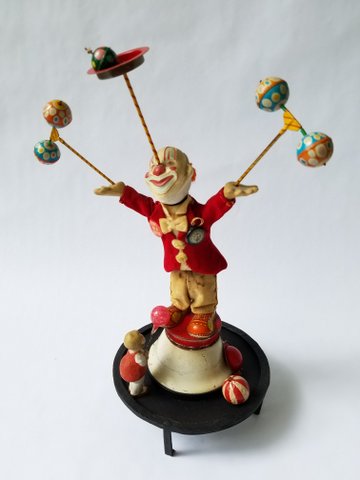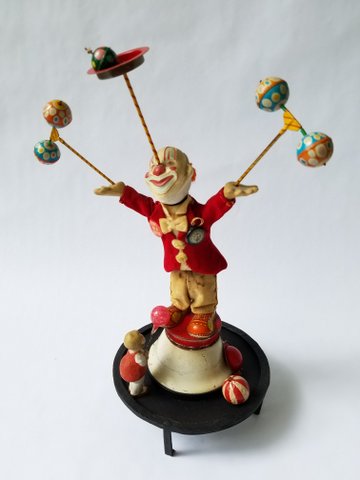 Mark Serrianne
Don't Be A Quitter
Assemblage Sculpture Art
15 1/2 x 10 x 7 inches
As a collector of vintage tin clowns, I have always wanted to do a sculpture incorporating one. Alas, I found the "right one" among a bunch of stuff two elderly women were selling at a flea market in Florida. This early 1950's wind-up (that works) was made in Japan. He stands atop a musician's trumpet mute from the 1920's. In my collection of pinbacks was the "Don't be a quitter" pin that crystalized the idea. The old porcelain figurine of the little girl with a balloon is looking up at the clown with admiration. The small ball folk art fishing bobber and the clown's tin hat rest on a civil war era forged iron stand.
Artist Statement and Biography
After a career in advertising (formerly CEO of Cincinnati-based Northlich), Mark's love for great design, primitive antiques and unusual found objects all converged to form his creation of assemblages.
"Some works convey a message, some an outgrowth of a  personal story, some a flight of fantasy and others are simply compositions that just look and feel right.  Each one has been put through the torture test of long stares.   My work aims to give very special found objects a new life and context."
A collection of Serrianne assemblages were exhibited in February, 2017 at the juried national show of the American Craft Council in Baltimore, Maryland.